Here on www.click-me.today  you can find the best online collection for Xmas templates!
These Santa Claus envelopes can fit in an A4 sheet perfectly!
 

Free printable Santa envelopes 



New Year's Eve is coming... Enjoy more these holy days by making a nice letter to Santa for your pupils or children!

All these Santa envelopes include:
Santa's elves, Santa face, reindeers, sleigh with Santa and reindeers (with Rudolph!),  candy canes, wonderful presents, snow at the North Pole, snowed Santa Claus, christmas trees and, sometimes, a sleeping Santa Claus!!!
 

You can print the best templates for Santa Claus' envelopes!
There are several envelope templates, vintage Santa envelope, modern Santa envelope, also some 3d Santa envelopes.


Envelope to Santa Claus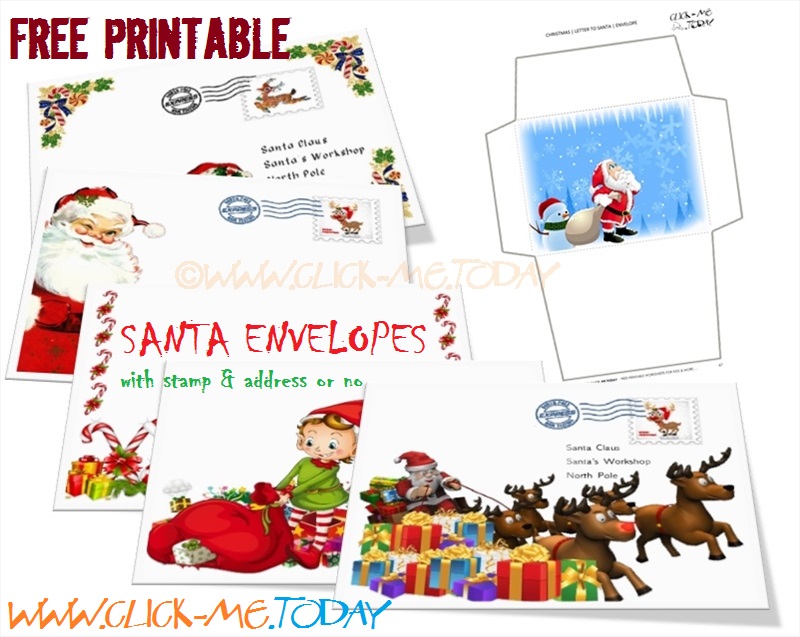 Santa envelope with address and stamp
You can find printable Santa Claus envelopes with the address of Santa, stamp and postage stamp, too. 
The same envelope crafts can be found also blank, if you want to write the Santa's address and stick a postage stamp at the Post Office.
These templates can be printed in black and white, too.

Children (also grown-ups / adults) can easily print one of these templates and start writing their address and christmas list. Then, they can print the matching ready envelope for Santa's letter, here.

Ideal  for preschool teachers or kindergarten. Also, you can enjoy them at home, with your own children.


These christmas envelopes for Santa letters are a part of the whole free Xmas Collection of Click-me.today website. 
Each envelope can be paired with the same template of letter to Santa paper.
Looking for a nice template for sending a letter to Santa Claus? Print here!
Find here all printable Santa envelopes